I have recently finished the fourth book in the historical crime novel series about an amateur Roman detective called Ruso.  Ruso and the River of Darkness, is, in my opinion, the finest in the series by British author R.S. Downie.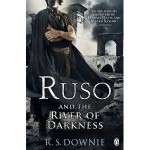 Comparisons with Lindsey Davis' Falco series are inevitable. In fact it was because I had enjoyed the Falco books (the mock-noir tales of a PI in Rome whose humour is drawn from our familiarity with the style of the detective novels and films of the Forties and Fifties) that I picked up the first in the series, Ruso and the Disappearing Dancing Girls, in the first place.
Unlike Falco, Downie's sleuth is a reluctant detective. He is an army doctor (medicus) based in Britannia, who gets drawn into murder investigations via his patients (some dead, some living). I suppose he is a Roman version of Quincy – only far better looking! Yes, he's a very attractive hero and female readers will inevitably fantasise who will play him in any film adaptation (I would opt for Ethan Hawke). However, unlike Falco, he is not a playboy (although in the latter books in the series, Falco has settled down). In fact, he finds romantic attachments a distraction. Despite this, he reluctantly falls in love; with whom I will omit from this post so as not to spoil the plot of the first book.
Again, like Falco, there is a great deal of humour in the books, but there is also a serious side. And that's what I like about them. Like my own book The Peace Garden and all of my plays, I like mixing darkness and light. I also enjoy writing and reading books and scripts that deal with issues of social justice. In The Disappearing Dancing Girls it is human trafficking, in Ruso and the Demented Doctor it is the domestic oppression of women in forced marriages, in Ruso and the Root of All Evils it's the issue of class and in The River of Darkness it is institutional corruption. But Downie has a light touch and the books can simply be read as rollicking historical crime drama.
If you're not already familiar with the series, I would strongly recommend remedying this. For readers in the US, the books are published under different titles. (Medicus, for instance, is the American version of Disappearing Dancing Girls). And now, I'm eagerly awaiting the next in the series …