Screenplays
Enemy Lines
(FNA Films, 2008)
A soldier returns from the battlefield to a British street. As his tortured memories threaten to overpower him, he is faced with the choice of saving an anti-war protestor from a mugging or leaving her to suffer her fate. Moral lines of right and wrong are redrawn in this short but powerful four-minute film.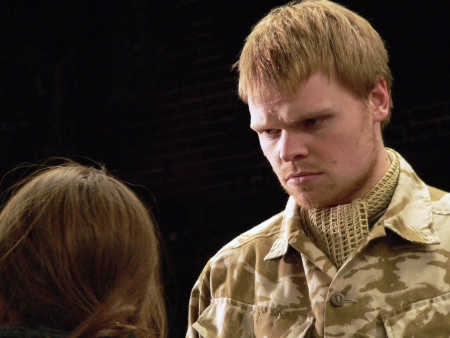 Directed by: Michael Steel
Written by: Fiona Veitch Smith
Produced by: Zahra Zomorrodien and Dawn Furness
Director of Photography: David Dixon
Awards and nominations:
The Jazz Man's Shoes
(Previously titled Another Man's Shoes. Based on an idea from a short story of the same name by Fiona Veitch Smith)
It's 1956, the height of the London jazz scene, and two pianists arrive in the capital. They've never met but look uncannily alike. One is escaping a gay sex scandal at a posh school, the other is embroiled in an inter-racial affair with a society heiress. Neither realise they're a threat to a billion pound shipping empire and a tycoon who will do anything to stop them. Jazz, sex and murder – it's a perfect fit.
Spinning
Two women meet in a gym. They're the same age but on opposite ends of the career / family spectrum. Clarissa wants Dawn's life until she discovers that Dawn already has a bit of hers. A ten minute film covering a life-time of disappointment.
Spinning was shortlisted for Northern Film and Media's Maxi Stingers 7.
Jesus Calls the Fishermen
(Home Plate Entertainment, 2016)
Six minute animation script for The Guardians of Ancora Role Play Game. The animation is being brought to life by Home Plate Entertainment whose Producer, Bill Schultz, has previously produced classic shows such as The Simpsons and Jakers.
Quest 1 – Jesus calls the fishermen from Scripture Union on Vimeo.
Wally & Floss and the Five Golden Rules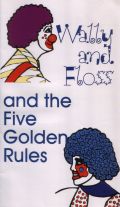 (Edumedia, 1999)
This educational video script was for a pre-school HIV-awareness programme. The project was funded by the South Peninsula Health Department in Cape Town and is still used in pre-schools and nurseries in the city.
Directed by: Dirk Binneman and Fiona Veitch Smith
Written by: Fiona Veitch Smith