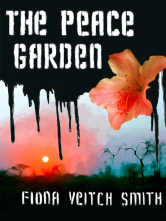 I'm delighted to see another 5-star review for The Peace Garden.
"This story takes a strange course – from the theft of plants in 1990, to attempted murder and assassination plots in 2001, by way of South Africa in the apartheid years. All bound together around the wonder and the challenge of growing things. Along the way, we meet some marvellous characters – all of them drawn with depth, with colour, with humour and with a deep sympathy. As events unfold the central character, Natalie, has to confront some deep issues, such as courage and justice and love and belonging. Through it, we can see her growing, and perhaps we grow a little along with her. A wonderfully well crafted book."
It really touches me when readers time the time to write such encouraging words. Thank you. If you've read the book then please consider leaving a review too. And if not, well, you know what to do … 😉 Check out The Peace Garden at Crafty Publishing.