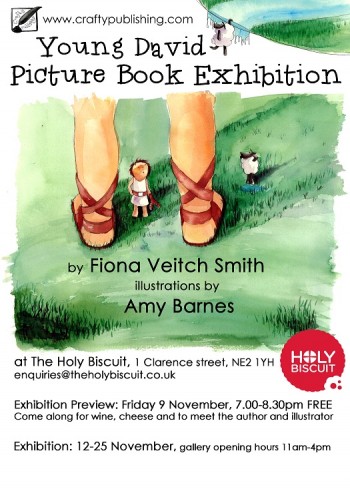 Has anyone missed me? Sorry I've been away for a while. Nothing personal, you understand, I've just been so busy. Busy finishing the first draft of the screenplay for a feature film called The Choice, finishing a spell of social media promotions for another publishing company, busy not finishing my historical novel The Judas Curse (but making good progress with it), busy editing and publishing a fabulous crime novel by Tony Glover called Cars Just Want to be Rust, busy teaching a new crop of students at Northumbria and Newcastle Universities, busy helping to lead an Alpha Course at Heaton Baptist Church, busy ferrying my daughter back and forth to her gymnastics lessons, busy vising my mum who hasn't been too well, busy starting to sort out my study but not finishing it (and now I'm working surrounded by boxes), and, most excitingly, busy preparing for the launch of the Young David Books Art Exhibition this Friday! Oh, and by the way, you and your friends are cordially invited – if you live in (or are visiting) the North East of England.
The exhibition will be of Amy Barnes' original watercolours for the three books in the Young David Picturebook series so far: David and the Hairy Beast, David and the Kingmaker and David and the Giant as well as the work in progress on our next book, David and the Lonely Prince. Amy and I will be there to sign copies and talk about the books and there will be free cheese 'n wine. Yes that's right – free!
So if you have plans, cancel them, or risk missing the art exhibition of the year! (Well if I'm not going to talk it up, who will?)
Where? The Holy Biscuit, Newcastle upon Tyne
When? Friday 9 November
Time? 7 – 8.30pm
Cost? FREE!!!!!!!!!!!
The exhibition will run 12 – 25 November, 11 – 4pm daily.